Business Debit Card Powered by MOCA
Ready for a next-generation card-based payment platform?...Then you're ready for Excel Bank's Business Debit Card Powered by MOCA!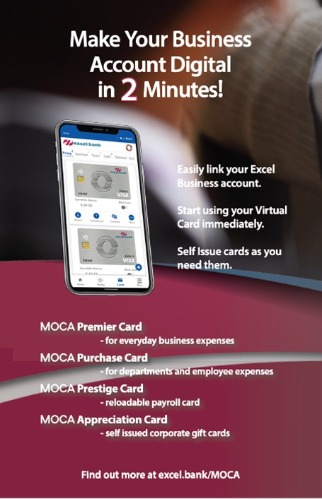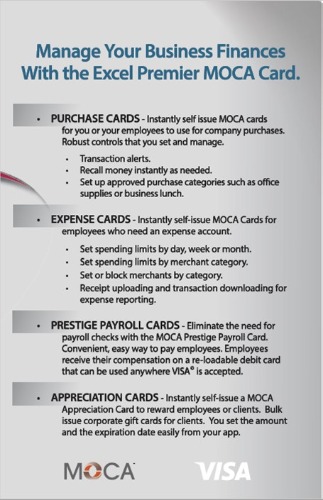 What is the Excel Bank Visa MOCA Card?
MOCA is a Next-Generation Card-Based Payment Platform
Cardholders can self-issue EMV-enabled, contactless plastic and virtual MOCA Cards on demand
The MOCA platform provides real-time alerts of authorization, receipts and receipt tagging
MOCA enables granular spending controls based on:​

Merchant Category​
Spending Limits​
Transaction Type​
Time-of-Day/Day-of-Week​
ATM Authority
Geofencing to the Cardholder's Home Zip Code​
International Travel Selection by Country

Choose the right card for your business...
PREMIER Cards: A business's primary card linked to a business DDA account for auto top off funding. 
PURCHASE Cards: Reloadable cards that a business issues to its employees  or departments. The business can monitor transactions in real time and control when and where the card is used. 
PRESTIGE (Payroll) Cards: A reloadable card issued by employers to employees. Can only be loaded by the employer and the employer cannot monitor the cards' usage.
APPRECIATION Cards: Business version of a gift card. Works like any other gift card, but the business can set the card's expiration date. Limited to $1000.
Ready to sign up?* Click the button below to get started with your
new Excel Bank Business Debit Card Powered by MOCA!
(To enroll, click the 'Get one today' link on the Welcome to Excel Bank page)
* Must be a current Excel Bank account holder to obtain a MOCA Visa Debit Card.
Have questions about your Excel Bank MOCA Card?...We're a phone call away. Contact our MOCA Support Team:
MOCA Phone Support:  888-409-3154